Environmental Sustainability Social Relief and Livelihood Development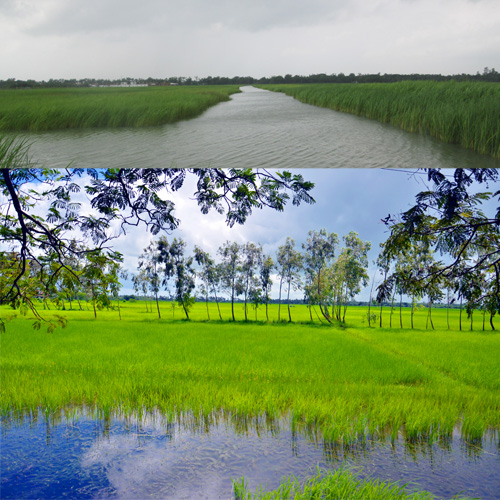 After a decade of experience in microfinance and community development activities, VSSU learnt that microfinance alone is not sufficient for economic development and empowerment of the community. Generating employment opportunities is an essential development initiative that can harmonize the microfinance services with social development activities. To achieve this, VSSU is in the process of setting up the 'Jeebika Foundation', an institution dedicated to promoting sustainable livelihood among low income households. The foundation aims to connect these new employment opportunities with its existing microfinance and community development services.
So far, VSSU has already collected more than 100 acres of land and canal to be used for livelihood promotion and entered into a joint venture with Jaipur Rugs Foundation, a carpet manufacturing company to train women in carpet weaving skills. Other initiatives include mushroom cultivation training, production of jute bags, 'Jodi' work and embroidery of saris, to name a few. VSSU has recently partnered with the University of Agricultural Sciences, Bangalore as one consortium partner for a project on Sustainable harvesting processing and value addition of wild bee honey. The project is to be funded by the World Bank through the Indian Council of Agricultural Research (ICAR) under the National Agricultural Innovation Program (NAIP) with other consortium partners.
Planted 10. 0 Lacs+ (Wood species and mangrove trees) in 140 KM road side and through 50 Km coastal embankments of Sunderban. VSSU is growing saplings at its own nursery and creating alternative livelihood among the coastal inhabitants to become less dependent on forest. In addition VSSU is emphasizing on organic farming, poly house- floriculture and agri-allied activities for a better and greener tomorrow.
add here
VSSU's Support during the COVID-19 Pandemic ( 2020-21)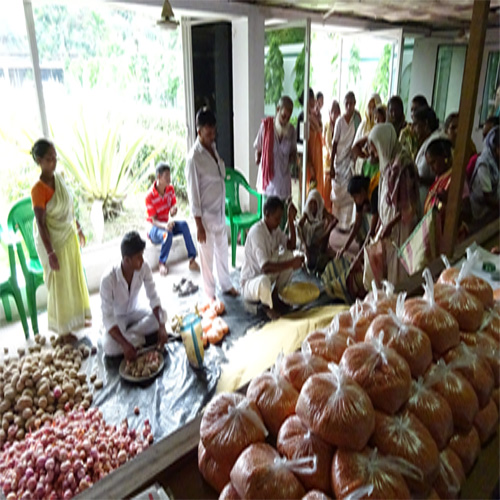 The global pandemic has had and will continue to have a devastating impact around the world. That's why we remain focused on continuing to use resources and teamwork, as well as our compassion and commitment to social responsibility, to support and help the communities of Sunderban.
From our rural beneficiaries, general community women and youths, to our employees, and right through the world's poorest communities of Sunderban, we have served around the clock to ensure that we continue to meet the nutritional needs of vulnerable families of isolated coastal Sunderban areas and also the communities living at buffer zone during this difficult time. On the ground, we are mobilizing substantial local relief efforts in the communities where we operate.
Since March 2020, during 3 months long lockdown, we have provided food and relief support to 15,000+ families of 5 blocks of Sunderban Police District of West Bengal. Our initial response to the pandemic focused on creating community awareness, helping caregivers, and supporting migrated workers and homeless /jobless people living on streets and stations by providing them two times meals for more than two and half months. Later in 2020, we focused on responding to hunger and poverty, including free distribution of Sanitizer, mask, soap, and basic Covid-19 diagnostic equipment like thermal temperature gun, pulse oxy-meter, immunity building medicines, etc. And since April 2021 (during the 2nd Wave of COVID in India), we are again supporting the marginal communities of the rural part of our area through Food and relief & grocery items to feed their family at least for a month.
Helping with local relief efforts
* Providing two times cooked meal support to migrated workers, beggars, local hawkers, homeless youth, and women living in our area in collaboration with the Local Block administration.