Free Creche School
Pre-Primary: Crèches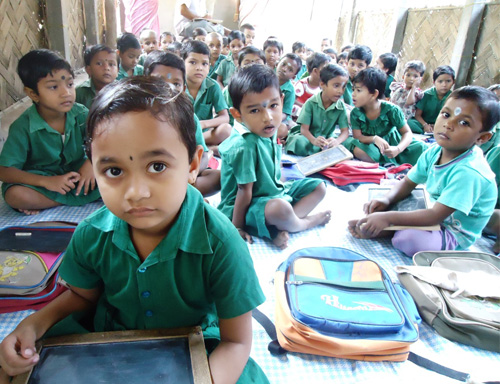 Recognizing that early-education is an extremely effective way to create strong social and academic skills and habits in children, VSSU operates more than a dozen crèches throughout South 24 Parganas. These programs enroll local underprivileged children for a fee as small as 5 rupees a month for 3-4 hours of daily instruction and nurturing. The children that attend the crèche programs are between the ages of two and four, and are taken care of by two crèche mothers, who are employed by VSSU. These programs allow children to have early exposure to basic education that includes learning the alphabet, numbers, days of the week, animals, nursery rhymes, and more. The crèche programs also allow the teachers to identify and nurture special talents and inclinations within each child at an early age so they can reach their potential later in life.
Ashok Nilay Nivedita College of Education ( B . Ed College) : Coming Soon
VSSU have been received affiliation from NCTE & Calcutta university to start its B.ED College viz. Ashok Nilay Nivedita College of Education , which will starts its first academic year from June 2016, 2 units of students ( total #100) will have residential training facilities which is mandatory to apply for the teaching staffs under school Service Commission. Teaching may earn the qualifications necessary to become teachers. This facility will provide previously unavailable training opportunities for those interested in entering the teaching profession.
Scholarship Programme for poor & Meritorious Students
VSSU is proud to sponsor a number of young adults who show particular promise in academic fields such as engineering and medicine, with scholarships. These scholarships provide living stipends and/or allowances for books to allow the students to pursue their studies at the college and university level. Till date 580+ meritorious students from poor families have been benefited through this programme.
Skill Development : Promoting earning opportunities among the unemployed youth & women has always been a great concern for VSSU. In order to train the local unemployed youths VSSU started carpet weaving, jori making , jute rope making initative initially in the FY 2008-09 , gradually VSSU is involving in the skill sector more intensively , VSSU collaborated with Jaipur Rugs Foundation, READ Global , ICAR, TECHNOPAK , MORD etc. to implement different types of skill programmes time to time , today VSSU is running Computer literacy drive, Advance tailoring , Soft Skill & English relay program etc. successfully!
At present VSSU is implementing a large scale skill training programme viz. Industrial Sweing machine operator (ISMO) under DDU-GKY of MORD, in collaboration with Technopak Advisors Pvt. Ltd. With a target of #4000 employment creation from 5 district of West Bengal. Today VSSU have a Bengal's biggest private sector residential training campus of 30,000 sqft. on 20 acres of land area , where #750+ trainees can have facilities for boarding and lodging! As VSSU always wish to expand its skill programmes at a large scale, it has applied to several Govt. & Private skill programmes to serve the unemployed community at a large scale!