IBC Photo Gallery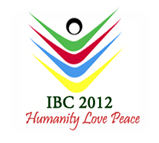 International Brotherhood Conference 2012
September 27Th to October 2nd , 2012
Ashok Nilay complex, S 24 Pgs, India
It is a matter of great pleasure to announce that an International Brotherhood Conference (IBC 2012) is being organised by Vivekananda Sevakendra -O- Sishu Uddyan (VSSU) w.e.f 27th September to 2nd October'2012 at Ashok Niloy Complex, Lakshmikantapur, South 24 Pgs., W.B, India to mark the 150th birth anniversary of Swami Vivekananda which also coincides with the completion of 25 years of functioning of VSSU. The IBC-2012 is striving its best to ensure the august presence of distinguished visitors,representatives from the UN,International & Multilateral Funding Agencies, Religious Institutions working to the cause of alleviation of human suffering, NGOs/Civil Society Members, and other dignitaries from about 50 different countries in the world.
Broad objectives of IBC 2012
The broad objective of this endeavor is to enhance humanity awakening, solidarity, brotherhood, peace, communal harmony and youth leadership through the teaching of Swami Vivekananda.
Issues to be discussed in IBC 2012
The thematic centrality of the IBC-2012 will be governed by the principles of teachings of Swami Vivekananda in the area of love, humanity, peace & unity in diversity. The IBC-2012 will encompass all essential elements of an interanational conference starting from an inaugural ceremony marked by introductory remarks by some of the distinguished personalities of International repute along with flag hoisting, exhibitions, cultural events, seminars on diversified topics such as Millennium Development Goals (MDGs) of UN, socio-economic development, sustainable living & the likes. Prior to valedictory session some arrangements for Sundarban visits by the intending visitors as a part of eco- tourism have also been made
The rationale of holding IBC 2012 in rural surrounding
It is satisfying to observe that during the last 25 years we have put forth our earnest effort in carrying forward sustainable community development projects through community resources to generate self employment and to enhance the dignity of rural population burdened with extreme poverty. VSSU has been invited to grace seminars and meetings to more than 20 countries spread in 4 continents in order to enunciate its vision, mission and practices on community development through community resources to alleviate poverty. To complement our visits, we also played host of interns from 39 countries spread in 5 continents. It is not an ignoble piece of information to note that our responsibility towards society has been much enlarged when we are bestowed with the Special Consultative Status with the Economic and Social Council (ECOSOC) of United Nations last February, 2011, an accreditation which always works as a boost to all of us working in our organization in order to move and lurk in the global arena. In this auspicious year we extend our heartfelt gratitude by requesting your imposing presence to celebrate with us the 150th birth anniversary of Swami Vivekananda and the celebration of 25 years of VSSU foundation as well.
IBC 2012 as 3 in 1 Conclave
By commemorating and practising the principles and teachings of Swami Vivekananda, we would be able to achieve holistic understanding of every problem we face in this mundane world. In this connection, the IBC-2012 comprising of "three Conferences in one", would concentrate on three core aspects viz. (i) Attainment of Millennium Development Goals (MDGs) in the back drop of the philosophy of Swami Vivekananda on youth leadership (ii) Peace, Communal Harmony & National Integration & (iii) Global Cultural confluence . Parallel sessions concomitant to these aspects would predominantly focus on underlying intricacies and modus operandi of all these three strands would be brought together into exciting plenary sessions and debates that would be of commoners' concern. Such organizational efficacy would, in turn, ensure that the IBC'2012 will be of worth for a wide cross-section of participants such as, local community, policy makers, international representatives, NGO groups, academicians, volunteers and so forth.
International Brotherhood Conference 2012 Documents
International Brotherhood Conference 2012 Presentation
International Brotherhood Conference (IBC)-2012 Proceedings